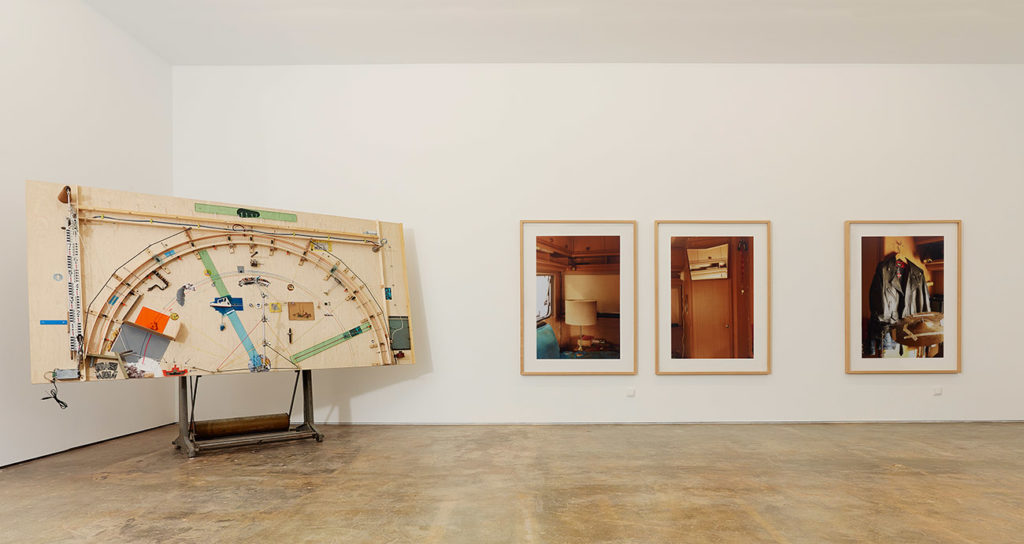 18 November 2021 – 22 January 2022 (extended)
Arrábida Bound
Miguel Palma & Luís Palma
Curated by Miguel von Hafe Pérez
The exhibition, Arrábida bound, materialises a network of friendships that intersect different moments in time, experiences and a shared present. As a curator, I have been intensely distrustful of those who try to stay at the crest of the wave and bring together dozens or even hundreds of artists, with whom they have already "worked". This is pure egocentric marketing. If you believe that someone has something to say in this world, you have to stand next to them, providing support and constant criticism, regardless of the issue at stake. What one cannot do is ignore the issue, just because the socio-ideological agenda has suddenly changed course. That would be depressing and hypocritical, rather than the other way around. Sometimes, some people are left by the wayside. If that didn't happen, it would be a sign that art is nothing more than a deceptive mirror of reality. Fortunately, I believe that art is a magnificent, distorting and expansive mirror of reality. I regret those who are lost because they are no longer with us (their work, if valid, will last over time). I regret those who were lost during various additions, but I would never cease to accept, admire and accompany those who grew up with me and helped me look at the world from a new perspective.
The .insofar art gallery and its mentor Hugo Carvalho, diligently assisted by Inês Valle, has given me a kind of "carte blanche" to organise this exhibition. This not only demonstrates a rare level of confidence but is sustained by profound knowledge of the context of Portuguese contemporary art. It is always good to notice new enlightened interlocutors on the map.
Miguel and Luís first cemented their friendship during the Images for the 1990s exhibition, in Serralves in 1993, and then began a continued body of work oblivious to external rulings, fashions and conjunctures.
Arrábida Bound is inspired by a truly extraordinary coincidence: both artists recently developed a series of works more or less literally associated with Porto's iconic bridge, the Ponte da Arrábida. Built between 1957 and 1963, it posed an overwhelming challenge in terms of its engineering principles and is also a successful example of the eternal formal elegance of its author, the engineer Edgar Cardoso.
Luís Palma's project, Twenty-five words or less is part of a series of photographs taken inside a motorhome parked near the Ponte da Arrábida, occupied by an old rock'n'roller. One day, as he was passing by, Luís Palma heard a drum kit being played. After he had identified the location, he knocked on the door and realised the unusual setting. The interior of this motorhome, as a place of residence and a place where memories could be practised, became the basis for an exercise in shared curiosity. As the former member of a cover band, that had its heyday in the late 1970s and 1980s, this musician, who now spends his daily life in the isolation of a mobile home, is a potent metaphor of the insidious nature of everything that our society tends to forget. He has learnt that his group, Pesquisa (which means research), is part of my memory of posters around the city of Porto…
Luís Palma subsequently made a journey through his personal memories, including a set of photographs from the early 1990s, which interweave narratives of politics (in particular colonialism and revolution), life on the road and the musical universe, as a defining influence on attitudes and behaviour. Memories of a concert given by The Clash in Madrid, memories of a life spent in a narcissistic road of discovery of no-future, as claimed by the punks, everything revolves in the soup of a post-revolutionary Portugal, that was trying to find itself socially and individually. The elliptical set of works – Twenty-five words or less – doesn't need to denounce, rally, or scream. As Iggy Pop once said, in order to convey a certain level of energy and urgency a song needs no more than twenty-five words. Photos taken in the tiny space of a motorhome with a large-format camera are priceless oxymorons. That is what Luís Palma brings and offers us. The ballast of his memory in the other images is the ballast of a past that is the presence of what for some people was a defining moment. Otherwise, it fades into the past.
Miguel Palma anchors his works in the explicit representation of the Ponte da Arrábida bridge in an unfolding between sculpture and drawing. As always, he references a fictional universe in which modernity presents itself as a tense paradigm between efficiency and derision, between comfort and disaster. His mechanisms are kind of bachelor machines, as coined by Duchamp, where desire and death are mixed up in the ballast of repetitive and circular movements, without any evident connection. The drawing board, now transformed into a sculpture, is a repository of imagined gestures, combined with a series of notes that move through time in disruptive synchronicity. He is fundamentally interested in gestures: the possibility of uniting margins, bridging the gap between different moments in time, disparate intentions, exercises in improbable unions, such as the one that, returning to Duchamp, he established with his naked female partner as they played a game of chess. Because that is what art is all about: realising that there are rules, studying them, and then establishing something that represents an absolute divergence, anchored in a more or less defined framework.
The gesture, in the determining curve, houses a myriad of references that the spectator will be able to identify. Camouflaging this concrete bridge with the structure of the Eiffel bridge in Porto, in one of the drawings, reiterates this imaginary compression of time, in which technological avant-gardes meet, in unison with the aesthetically sought-after gesture of the curve that brings things together: as in the work of contemporary art, this requires trust in an obsolete present. Nothing occurs beyond that which the observer is able to add. The rest is a direct channel towards oblivion.
In his incomparable search to find a meaning for modernity, Miguel Palma is one of the artists who best expresses the importance of confronting different ways of imagining a world that has been promised to us, with that which the world has revealed as a verifiable impossibility. Today our children ask us to take stock. In the past, we all wanted to fly from Europe to New York on Concorde, in under four and a half hours. Didn't we?
Without any sense of guilt, as some of Luís' images tell us: other times, new memories and expectations.
Arrábida bound serves as an opportunity to witness how concepts such as memory, history and the consequences of reflection (or lack thereof) about our recent past may be critically activated through contemporary art.
Notes (perhaps too personal) about an exhibition by Miguel von Hafe Pérez.
read more
read less